The first half of the summer term is over already! We have enjoyed so much already: a Resurrection Liturgy, a Music Evening, Sports Days, Ascension Mass and our First Holy Communion Liturgy!
What's more, our Year 2s and Year 6s have worked extremely hard preparing for and sitting their National Assessments!
Thank to the hard work of our pupils, staff and parent support in keeping our BRW Spirit Strong this half-term! We're excited for the next half-term of the summer!
The Yellow-Spotted Lizard!
This week, we are writing a non-chronological report about a fictional lizard in the book 'Holes'. Your task tonight is to research lizards and then create some trustworthy facts about the 'Yellow-Spotted Lizard', that you can use in your writing this week.
Your sentences should include examples of parenthesis.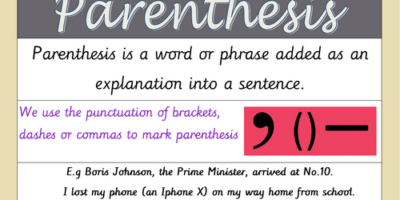 You might also want to watch this video to gain some more knowledge about reptiles!
https://www.youtube.com/watch?v=-rDjqhFJrFI
A minimum of five sentences is expected for your homework requirement.
I can't wait to hear your incredible facts!
This year, the British Science Week theme was connections! To celebrate this, and to give our creative, imaginative and incredible children a challenge, we ran a Marble Run competition. True to form, they didn't disappoint!
Everyone has really enjoyed all the photos and videos that have been emailed in. We have been wowed with all the amazing creations – not to mention your filming skills!
Thank you for all the stupendous entries. Our winner was Alexander, who managed the longest entry at well over 4 metres (so many twists and turns it could be double that!) Congratulations to all, you should feel very proud!
On the last day of term, Year Six performed a powerful and emotive presentation of 'The Crucifixion'.
Retelling the most important story in the world, they used song, prayer and dance to lead us through the final stages of Jesus's life.
Year Six, we are so proud of your hard-work. Your performance will be one to remember for a long time to come…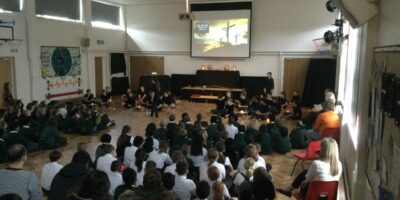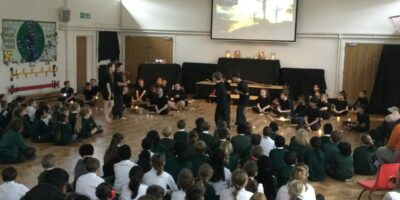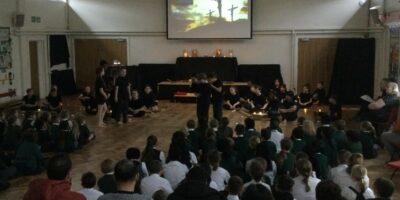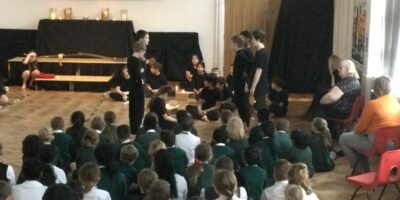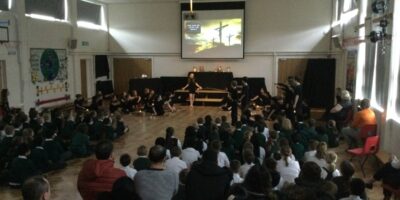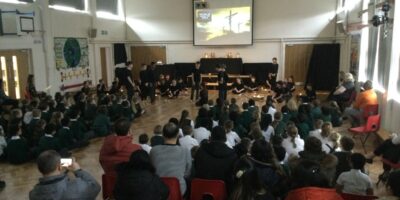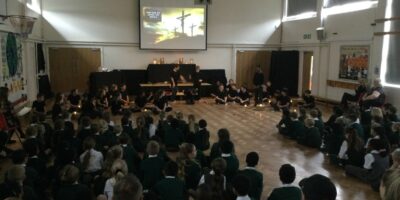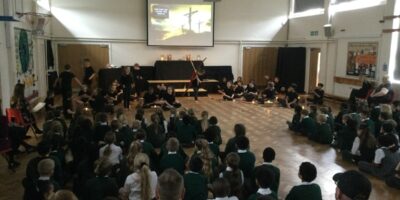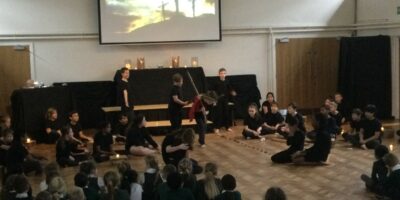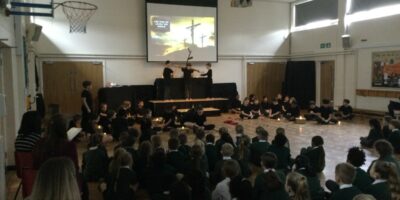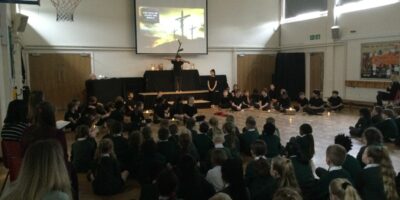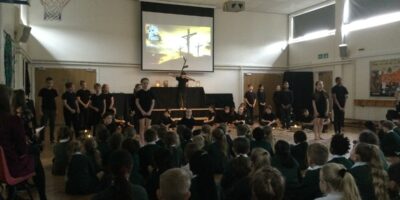 Welcome back!
Over the Easter holidays, we celebrated the most important celebration within our faith, the resurrection of Jesus! We celebrate the season of Easter by using a word we don't use during Lent – Alleluia! The word simply means 'praise the lord' and it's a reminder that at this time of year we should be rejoicing and celebrating that Jesus is risen. This week, think about what makes you want to celebrate and think about how you can show the world the joy of the resurrection.
A warm welcome back to our pupils and families at the start of the Summer Term!
We began our Summer Term with our Spring Achiever of the Term celebration assembly. We were so busy with a memorable Holy Week that we ran out of time to celebrate at the end olast term.
Congratulations to our more-than-deserving Achievers. Your adults can see some common qualities among you: hard-work, smiles, resilience and a thirst for knowledge. Keep up the good work!
In addition, we had several pupils who earned their 100% attendance pencil and sweets for being in school for 100% of the Spring Term! What a feat!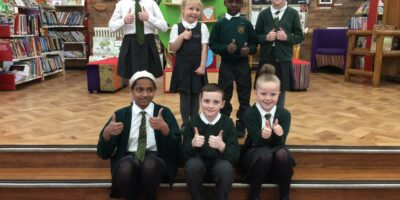 Merry Christmas to all of the BRW Community…
Have a very happy and holy Christmas!
YEAR 6 CAROLS AROUND THE TREE
Our focus this term in music has been to practice our harmony skills. We have worked towards a poignant carol that we finally performed at Carols Around the Tree last week. Listen carefully and see if you can hear when the harmony kicks in!
It was a challenge not to be put off by the other half, but we performed brilliantly on the night!
Wind Through The Olive Trees
Twelve Days of Christmas ROCK