BRW RADIO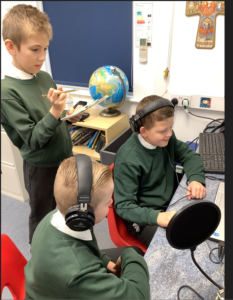 Welcome to the BRW Radio. On this page you will find the latest broadcast of our radio sessions.
On Tuesdays you can listen in from 9:15 am when the 'Word of the week' will be shared to make every Tuesday truly motivational complete with a thought and mission! As we start our Task Tuesday with a 'T' we will also be introducing the times table challenge for the week and announcing our winners of the previous week's challenge. Listen out, as it could be you!
Ever wanted to know more about the community that makes up our wonderful BRW, or even further afield and find out about a hero, celebrity or someone in the news? Well, make sure you're listening in from 9 am Wednesday morning! As on Wednesdays we will be interviewing one community member or telling you WONDER-ful facts about a personality we admire or are interested in. Tune in to find out everything you need to know about our local and global community members.
Tune in on Thursdays for Writers' Corner! Listen to some of our wonderful writing right here on the radio. Maybe you've written something amazing that just needs to be heard? Listen in and be inspired!