Year 6
Welcome to the Year 6 2022-2023!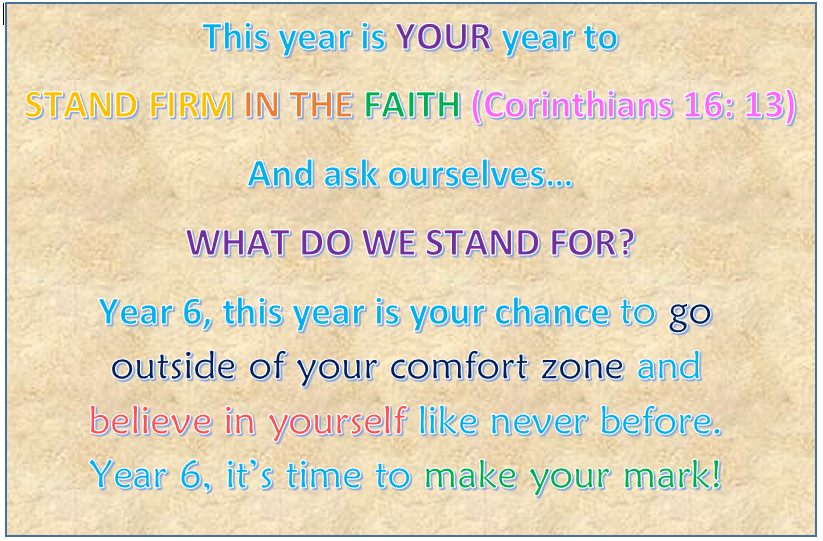 Stand Firm In Your Faith:
How Has America Thrived?
It's Spring! Welcome back to what looks to be an incredible term of hard work, success and wonderful memories. We're excited to be continuing our yearly theme of 'stand firm in your faith', there promises to be endless dreaming, asking, aspiring, achieving and believing.
Within our theme of creating, we will focus our learning this term on 'Stand Firm In Your Faith: How has America thrived?' This will involve an exploration of Ancient Mayan life, with a particular focus on Central America and its relationship with North America in terms of climate and migration.
RE will follow the Come and See topics of:
Sources: in which we will explore the resources we use to deepen our spirituality, with a clear focus on the Christian bible.
Unity: in which pupils will deepen their understanding of their church community, and how the Eucharist unites Christians.
Death and New Life: where pupils will learn more about and celebrate Christ's sacrifice and resurrection.
In English, Year 6 will continue to familiarise themselves with a range of texts, punctuation and grammar. We will explore these alongside our class read: 'The Girl of Ink and Stars'. We also hope to link Mayan and Mexican traditions to a beautiful book aimed at 9-11 year old readers: 'A Monster Calls'.
Maths will focus on revising all aspects of the curriculum as well as perfecting our arithmetic and written skills, and applying these to a range of problems, building our fluency and resilience even further.
Science will involve a look at the Human Body: how we grow, our heart and how we can keep our bodies healthy with diet. We will explore the Ancient Mayan ways of keeping healthy too!
Computing will link to our continuing theme also. We will create, programme and control Ancient Mayan temples using Minecraft and Kodu as well as explore Microsoft Excel through science experiments.
Art will continue this theme, with pupils exploring printing linked to Mayan pattern and colours. The famous print and pop artist, Andy Warhol, will be our inspiration throughout.
In PE, we have the opportunity to develop our confidence and fluency in gymnastics and   striking skills every Wednesday and hope to further develop our stamina with the K-a-Day!
In Geography, we will take a look at migration from Central America to North America as well as how climate impacts on flooding. History will focus on the success and downfall of the Mayan civilization!
And these links and videos will help to deepen your understanding too!