The first half of the summer term is over already! We have enjoyed so much already: a Resurrection Liturgy, a Music Evening, Sports Days, Ascension Mass and our First Holy Communion Liturgy!
What's more, our Year 2s and Year 6s have worked extremely hard preparing for and sitting their National Assessments!
Thank to the hard work of our pupils, staff and parent support in keeping our BRW Spirit Strong this half-term! We're excited for the next half-term of the summer!
FS had a great time at Forest School this week. They collected natural objects to create their very own Wild Thing, using clay. They also acted out the story in the woods. We heard lots of 'terrible roars,' and saw their 'terrible teeth in their terrible jaws!' Watch out for wandering Wild Things next time you're at the woods…..
We have had a very exciting day in FS celebrating King Charles' Coronation. We've made crowns, decorated party plates, listened to stories, ate some delicious party food and even had a boogie in the sunshine! As they children said, "It's the best day EVER!"
Foundation Stage have had a wonderful morning at Forest School. They became 'Wild Things,' creating their own crowns and perfecting their wild roars!! Watch out for them next time your in the woods…
This year, the British Science Week theme was connections! To celebrate this, and to give our creative, imaginative and incredible children a challenge, we ran a Marble Run competition. True to form, they didn't disappoint!
Everyone has really enjoyed all the photos and videos that have been emailed in. We have been wowed with all the amazing creations – not to mention your filming skills!
Thank you for all the stupendous entries. Our winner was Alexander, who managed the longest entry at well over 4 metres (so many twists and turns it could be double that!) Congratulations to all, you should feel very proud!
The children have had a fantastic morning in the woods. They have been using natural objects to create dinosaurs inspired by Andy Goldsworthy. We had, a triceratops, a T-Rex, a diplodocus and even a pterodactyl!
Welcome back!
Over the Easter holidays, we celebrated the most important celebration within our faith, the resurrection of Jesus! We celebrate the season of Easter by using a word we don't use during Lent – Alleluia! The word simply means 'praise the lord' and it's a reminder that at this time of year we should be rejoicing and celebrating that Jesus is risen. This week, think about what makes you want to celebrate and think about how you can show the world the joy of the resurrection.
A warm welcome back to our pupils and families at the start of the Summer Term!
We began our Summer Term with our Spring Achiever of the Term celebration assembly. We were so busy with a memorable Holy Week that we ran out of time to celebrate at the end olast term.
Congratulations to our more-than-deserving Achievers. Your adults can see some common qualities among you: hard-work, smiles, resilience and a thirst for knowledge. Keep up the good work!
In addition, we had several pupils who earned their 100% attendance pencil and sweets for being in school for 100% of the Spring Term! What a feat!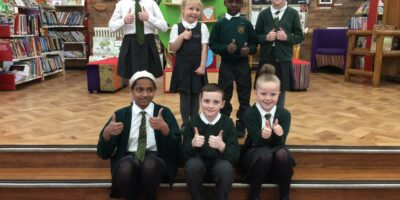 The Rainbow Fish have been learning the Easter Story using words and actions. They have been practicing really hard and couldn't wait to share it with you.
Happy Easter from the Rainbow Fish