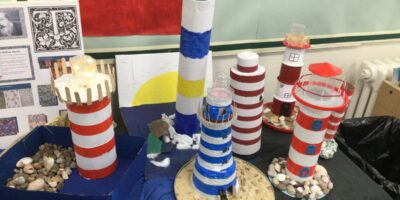 Year 2 are learning about courage and bravery this term. They were set a summer holiday homework task to build their own lighthouse.
Our lighthouses are inspired by someone who showed real courage and bravery. Grace Darling lived in a lighthouse in Northumberland a very long time ago and she did something very special. We will be finding out all about her later this term.
There have been lots of visitors to Year 2 this week as news has got out that our lighthouses are very impressive. They have got everyone talking about the attention to detail, shining lights and light switches to turn them on. It certainly looks like our families had fun being creative together. Thank you to everyone who brought in a lighthouse for our display.