Year 6 had an incredible time at The Briars! This year, they enjoyed being Agents of Love, where they had to show constant love, get closer to God and to do what is right and just. Through liturgies, reflections, Mass and team work, all of Year 6 graduated! Our time at the Briars consisted of lots of fun, including; a cold walk through Crich, a (very loud) disco, fun games and tuck shop. Speaking of food, Year 6 couldn't get enough of the delicious food served at the Briars! They helped serve others, met new friends from another school, and they particularly enjoyed learning some new prayers. Take a look at all of the fun we had…
Our 'Carols Around the Tree' event is back! Here are your Year 6 songs to learn – we get to sing two songs. Keep it hush hush so the performance is a brilliant surprise! And you have your own copy of the lyrics! Make sure you know them off-by-heart!
.
Session One:
WE LOVE BECAUSE WE ARE LOVED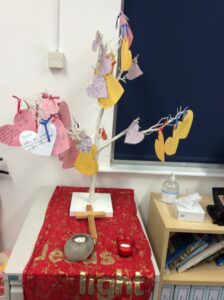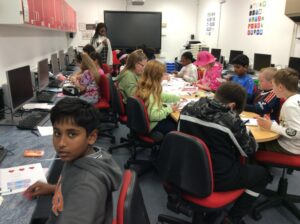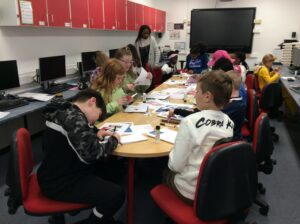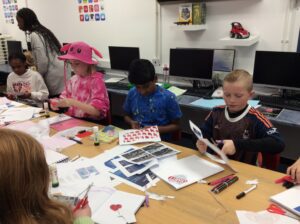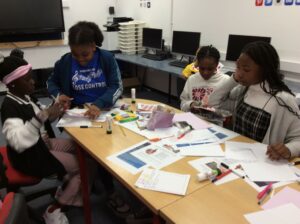 Session Two
LOVING OUR NEIGHBOUR IS LOVING JESUS
Putting our faith into action – making hot chocolate reindeer to sell at Carols around the Tree – please bring £1.50 to treat yourself or your family to a delicious drink.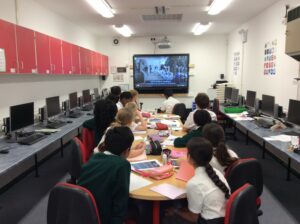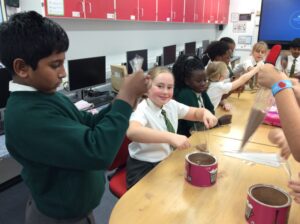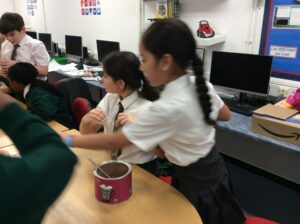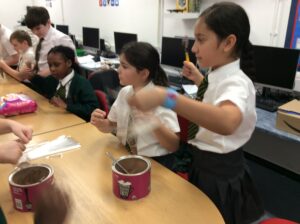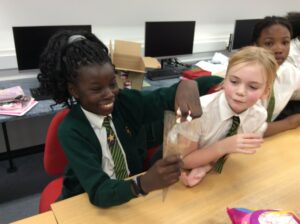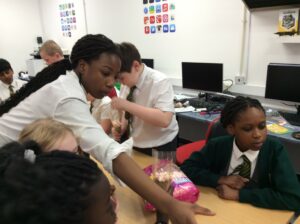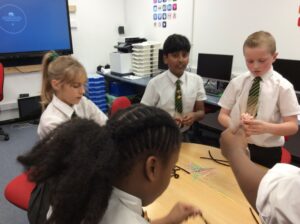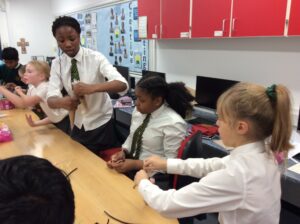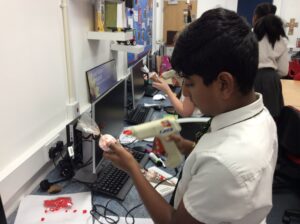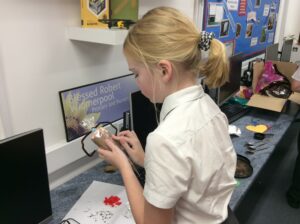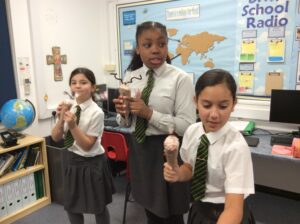 During their Art lessons this term, Year 3 have been creating Anglo-Saxon Art inspired by the artist Gustav Klimt. They used a range of natural resources found around the school grounds. Working well together in teams, they demonstrated how creative they are. What wonderful work!
They have also been using their artistic skills in their Design and Technology lessons. They attempted to make a paper lamp with a woodland theme design, to link with our Whole Class Read 'Hansel and  Gretal'. They are going to use these skills and knowledge about Electricity to design and make a children's night-light.
The wonderful children in Year 4 showcased their learning and talents in their first assembly of the year. The children showed how they can come together as a class to create something brilliant. Their dedication to learning songs, actions and lines was superb. A wonderful turnout from parents put a smile on everyone's faces and the children in particular felt so happy to have such amazing support! Well done, Year 4!
Year 1 had an amazing time at Think Tank! We explored how our bodies work, where different animals live and the amazing inventions that changed the world!
We learnt about water pressure and the uses of pulleys and leavers in the science garden. We also tried our hand at being doctors, dentists, police officers, hairdressers and so much more in Little Brum.
We had such a fabulous time and Year 1 learnt so much and had so much fun!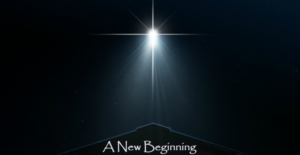 Years 4, 5 and 6, welcome to the 'Advent Rehearsal' blog! Click on each song and start singing! Try it without your lyrics in front of you when you're ready. Sing so much and so passionately that even your family know the songs! Let's make our Thursday 1st December, 5.30pm performance one to remember. It has been a long time since we have been able to celebrate together! #BRWSpiritStrong
Year 2 had a fabulous day at the ThinkTank Science Museum in Birmingham last Friday. The children took part in a wide range of interactive science exhibitions and learning zones.
Our first task was to explore the Little Brum role play zone. There were a wide range of role play shops and building areas with science challenges incorporated. The Year 2 boys enjoyed teaching each other the best way to lay bricks to create a sturdy wall!
We also enjoyed a session in the Science Garden. There were lots of challenges involving water which were very popular. The children challenged each other to boat races and discovered where to place the boat to win every time. They also discovered how canal locks work, ran in a hamster wheel and used their upper body strength to pull themselves up into the air.
We also had the opportunity to learn about our bodies and how they work and discovered how trains, planes and trams were powered in the past.
All of the children thoroughly enjoyed the day. There really was so much to see and do!Take a closer look at what we got up to…
Dear Parents and Carers of Year 2 and Year 6 pupils, 
I would like to invite you along to an exciting new project launch that BRW will be hosting. We are delighted to have been selected to work with the independent charity National Numeracy on an exciting project that encourages children and families to do maths together at home.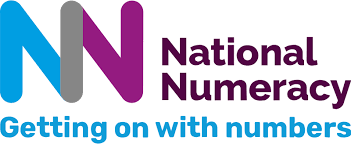 This project will be initially rolled out to only Year 2 and Year 6 families. In order to explain more and demonstrate how this project will work, we would like as many parents/carers of Year 2 and Year 6 pupils to attend a launch presentation and workshop on the following dates:
Year 2 Parents à Wednesday 29th November 2023, 9.00-10.00
Year 6 Parents – Wednesday 4th December 2023, 9.00-10.00
During each launch session, a presentation will take place in which the aims and actions of the National Numeracy Parental Engagement Project will be explained. After this, parents will be invited into their child's class to sit alongside them and have a go at some maths home-learning together. And, of course, a warm drink and mid-morning biscuits will be on hand!
Please note that these two year-group-specific launch events are different to our National Numeracy Workshop event, which we will be hosting on Wednesday 22nd with our Coffee Morning. This is open to all parents.
We hope to engage and welcome as many Year 2 and Year 6 parents as possible to the above two events. At BRW, we share your goal as a parent of supporting your child to achieve a confident level of numeracy that will lead to success. This project aims to achieve exactly this!
Please sign up to attend your event by emailing/phoning/going into the school office in person.
As a pre-cursor to the launches, National Numeracy is keen to hear from parents about their feelings and thoughts around maths. As such, we would like to you spend ten minutes completing the survey found on the link/QR code below. Thank you to those parents who were able to complete the survey at their parent consultations. If you were unable to, as a parent/carer of a child in Year 2/Year 6, we greatly encourage and appreciate your participation to make sure your views are heard and to better support our pupils' attitudes to maths!
Please access the initial survey via this link or QR code: https://nn.typeform.com/to/cUijAfNv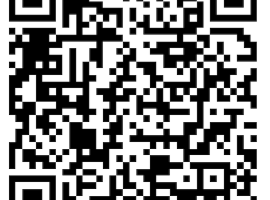 Best wishes,
Mrs C Hautenne