On Tuesday 28th November, Children in Year 1 and Year 5 took part in #Google #BeInternetLegends Day. Year 1 learnt about being kind online and sharing kindness through 'Kind Kingdom'. Year 5 completed their quest through 'Mindful Mountain' answering questions about what we should and shouldn't share online and learnt about our 'Digital Footprints'. As an added bonus, our Digital Leaders from all year groups have now been tasked with the challenge of creating their own Legends at home!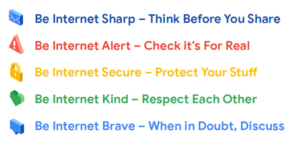 There are further family and individual activities, along with support and advice for parents here.
Year 5 have worked incredibly hard over the past few weeks preparing for their assembly. They provided an overview of all the wonderful learning they have done so far. Well done year 5! You should be very proud of yourselves!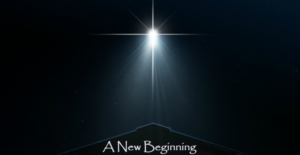 Years 4, 5 and 6, welcome to the 'Advent Rehearsal' blog! Click on each song and start singing! Try it without your lyrics in front of you when you're ready. Sing so much and so passionately that even your family know the songs! Let's make our Thursday 1st December, 5.30pm performance one to remember. It has been a long time since we have been able to celebrate together! #BRWSpiritStrong
In year 5, we have been learning about how light travels. As part of this learning we have investigated which materials would be best for a WWII search light to spot planes in the sky during blackouts. The children enjoyed designing this practical and presented their findings by using graphs.
Year 5 were lucky enough to visit the Nottingham Trent Bridge Cricket Ground last week. We began our day in the Pavilion and learnt about past players and some history of the sport. After the Pavilion, we ventured outside to look at the ground and even got to ring the bell. We then put our geography and history knowledge to the test by using atlases and timelines to find information about key events in cricket history. After lunch, Grahame taught us how to play cricket and developed our catching and batting skills – ending in a game. We had the best time and are so inspired to learn about cricket next year.
Stop Motion Animation
Year 5 started this term on the topic of Animation. We began by exploring the term animation, the history of animation and looking at some 19th century animation toys. The children then started planning their own animations using a story board and gaining ideas from famous amination programmes such as 'Wallace and Gromit'. Once the planning was completed, Year 5 were able to start creating their animations using play dough models and iPads. They followed their story boards and made small changes and movements to the models while taking images of each frame. They used a program called 'Stop Motion Studio' to create and edit their animations. There were some wonderful space themed animations created!
Data Handling
Staying on the theme of Space, in the second part of the Summer term Year 5 have been learning about Data Handling. The children learned about the various rovers that have been sent into space over the years to explore Mars and complete research. We discussed the length of time it took the rovers to get to Mars (from Earth) and the distance between the Earth and Mars itself. We also learned about Data transmission and Binary and that data needs to be simple to survive being transmitted over such a vast distance and that 'binary' was created as an international code for the transmission of on/off data. Year 5 have really enjoyed working with Binary numbers and completing the binary challenges.
Our Art topic last term focused on the technique of printing, through the artist Andy Warhol. We began by exploring who Andy Warhol was, what he was inspired by and why he made his artwork. We then examined key pieces of artwork of his and discussed what made it so unique. Once we were experts, we used our printing knowledge and Pop Art to create our own Mayan masks, in the style of Andy Warhol… take a look at our work!
Last Wednesday, we had a lovely afternoon exploring the history of music. We looked at pop music through listening to the artist, Adele! We listened to her song 'Skyfall' and discussed what we liked/disliked, what instruments we could here and even described the music using musical vocabulary. We also loved that our parents came to join us… especially helping us with finding the names and dates of ways to listen to music throughout history! Some of us also helped out at the Open Afternoon's French Café, practising their French and offering parents some delicious French cuisine!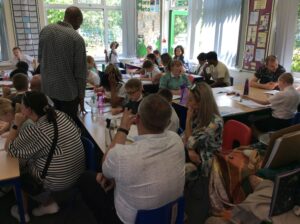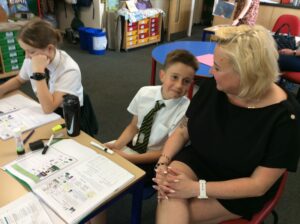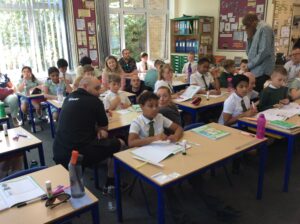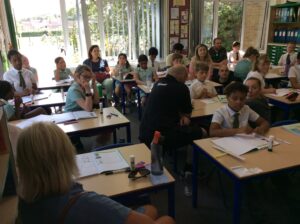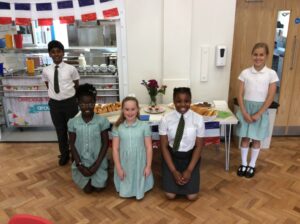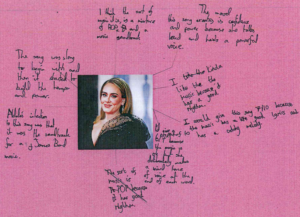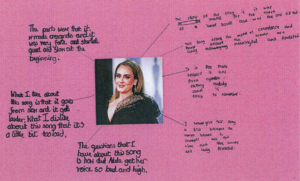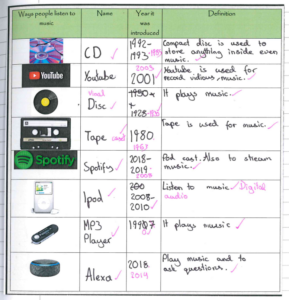 The first half of the summer term is over already! We have enjoyed so much already: a Resurrection Liturgy, a Music Evening, Sports Days, Ascension Mass and our First Holy Communion Liturgy!
What's more, our Year 2s and Year 6s have worked extremely hard preparing for and sitting their National Assessments!
Thank to the hard work of our pupils, staff and parent support in keeping our BRW Spirit Strong this half-term! We're excited for the next half-term of the summer!